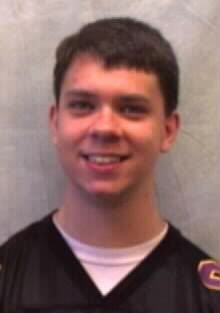 IN LOVING MEMORY OF COLIN MICHAEL "MIKE" EWERS

Colin Michael "Mike" was born December 18, 1981 in Edina, Minnesota—the only son of Claudia and Blaine Ewers. He graduated with highest honors from Bloomington Kennedy High School in the year 2000. He fulfilled his dream of attending Carleton College in Northfield, Minnesota and was a senior looking forward to his 2004 graduation. Mike was a visiting scientist on assignment with his professor at Arecibo Observatory in Puerto Rico, the home of the world's premier radio telescope. The observatory is a part of the National Astronomy and Ionosphere Center, which is operated by Cornell University in conjunction with the National Science Foundation.

Mike died tragically in a drowning accident on June 21, 2003 with his kindred spirit, Kit Reilly of Florida, who was also a very gifted student with a passion to explore the heights and the depths of the cosmos.

While at Carleton, Mike was a leader of his Habitat for Humanity group and helped build houses in Arkansas and Mississippi. He also was at least a 12-pint blood donor through the American Red Cross and the Memorial Blood Bank. Mike was a tour-guide, tutor, research assistant and bookstore employee at Carleton. He also volunteered regularly at Goodsell Observatory as a cosmic guide for the community, sharing his love for the cosmos with others. He played intramural field hockey, ultimate Frisbee and was in Aikido Club.

He is survived by his parents, Blaine and Claudia and his sister, Bronwyn Elizabeth.
A Tribute to Mike from his mom: Colin Michael Ewers, better known as Mike, lived a far too-short life, but what he accomplished in 21 years is more than many accomplish in a long life-time. He worked his magic through love and laughter & yet, when he dealt with academic matters and scientific data, he could seamlessly switch into a serious, explorative mode. Mike was goal-oriented, with his primary goal being to stretch the limits of the cosmos through space exploration. He loved the heavens and could name almost any constellation and point out and name innumerable stars/galaxies. He was into what makes binary pulsars behave in the way they do. He was following his dreams when he traveled to Arecibo, Puerto Rico in June of 2003. Mike went there with his professor from Carleton College, Joel Weisberg, to work with Joe Taylor who is a Nobel prize winner for his data work with binary pulsars. Mike also worked with other scientists and technicians on science data projects with information from the premier radio telescope. Because Mike loved nature and was always eager to explore, he set out into the jungle on a break from the telescope projects to find an enchanted river with a beautiful waterfall. He was accompanied by a student from Ohio and one from Florida (Mike was actually a Minnesotan.) I've been told that the afternoon was like magic. It was summer solstice and the jungle radiated with fauna and flora beyond Mike's greatest imagination. Mike was having the time of his life. He was making new friends and learning new things about nature and simply following his dreams and having a great time. Then tragedy struck. Much about Mike's drowning accident is still a mystery. Mike and one of his fellow hiking comrades (Kit Reilly from Florida) were found behind the waterfall's base a few days later, seemingly they had been swept over a 35-ft. falls with whirlpools below it, and the river claimed them both. Mike drowned on June 21, 2003, and his body was recovered on June 24, 2003. He was 21 years, 6 months and 3 days when he left this planet. While on earth, Mike had a passion for basketball, trains, space travel, earth travels, computer games, field hockey, Aikido, and ultimate Frisbee. He loved anything math and science but played the trumpet, too, just for the joy of it. He also loved being a tour guide for his college and a tutor for astronomy students. He helped people discover the heavens on observation nights at Goodsell Observatory in Northfield, Minnesota. He enjoyed traveling, whether with his peers or his family. He had been to Mexico, Canada, and Japan and many of the United States. Going to Puerto Rico to study the heavens had been top priority for him. He was so excited about it that he was planning on returning there again in December to do another project with a Cal Tech professor. Of course, that never happened. His mother has been devastated beyond imagination about her loss of Mike but tries to make the best of it by giving blood on a regular basis in honor of Mike's passion for donating blood. (Previously, she had been too much of a wimp to even consider it!) Mike had given over a dozen pints by the young age of 21. Mike also was a regular volunteer with Habitat for Humanity and even organized and led a group as recently as April before his death. His last trip of that type was to a little town in Mississippi, namely Leland, the hometown of Jim Henson, the creator of the Muppets.
Mike was awarded a BA degree posthumously from Carleton College in 2004. This was the first time Carleton bestowed this honor on a student who had died before completing his studies. He was only 2 quarters from graduating with his credit work so it was an appropriate thing for the college to do. Mike's mom, Claudia, wants others to know what a wonderful son Mike was to her. She still misses Mike dearly and wants you to feel her eternal love for him. She's forever his mom and Mike is forever her most awesome son. Mike also has a sister, Bronwyn, who lives in the Portland area of Oregon. She relocated there with her parents, Blaine and Claudia from Minnesota. This has been a part of the family's healing journey as they explore the natural beauties of the Pacific Northwest. Oregon's natural wonders inspire Mike's family to move forward with courage and hope. One of our greatest hopes is that Mike will NOT be forgotten and that his spirit will continue to bless many who were lucky enough to have known him.